Anniversary Gifts
for Her
Whether you're celebrating a lifetime together or your first year of marriage or dating, tell your partner exactly how you feel with one of our personalized anniversary gifts for her.
Anniversary Gifts for One Year Together
The first year wedding anniversary gift is traditionally something made of paper. Our jewelry gifts use paper to memorialize pivotal life moments.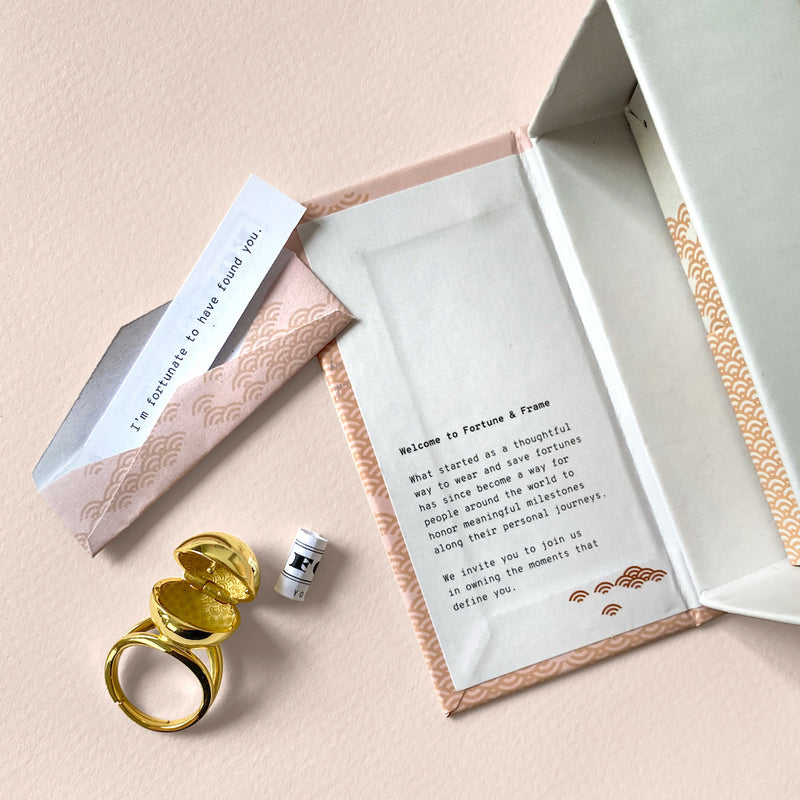 Sentiments to Express with your Anniversary Gift
You're fortunate to have her
Your anniversary is a perfect time to remind her that she is exactly who you were searching for. Fortune Cookie Lockets with a message from you to her are as thoughtful as anniversary gifts get.
Fortune Cookie Locket
You're looking forward to the next year together
Our Turning Corners Fortune Locket is all about embracing new beginnings and moving forward with purpose. Express your vision for the future together in words.
View Locket
You're paying attention to the little things
Capture an inside joke that only the two of you understand. Or frame a fortune she's been holding onto so she has a special place to honor a thought that inspired her. 
View Fortune Frame
You want to do life with her
You two are addicted to love--and each other. Go big here with a sappy mini love letter, delivered in our Envelope Fortune Locket. Special delivery!
View Envelope Locket
You want to honor her for her role as partner and mother.
She's the mother of your child—or will soon be. She's also your partner. Let her know that you see her and admire her in both roles.
View Capsule Lockets
Gifts for Wife • Anniversary Gifts
You're Just As In Love Now as on your Wedding Day
Whether or not she's traditional, a locket that commemorates the years of your story together with a personalized messages satisfies both tradition and thoughtfulness. 
Anniversary Gifts for Her
Memorialize important moments
The key to giving the perfect anniversary gift is to think less about the gift itself and more about the message you put in it.
View SPHERE Ring
An excerpt from your vows
Show her you've spent your time reminiscing about the most important part of that day: the vows you made to one another.
View Heart Locket
A passage of your story together
You've just finished another chapter of your story together. Let her know your favorite part with a line from your narrative.
View Lockets
Here's how our Anniversary gifts for her work
1. Choose a piece of jewelry she'll love
We have a variety of styles: Long or short, statement pieces or everyday jewelry.
Shop
2. Choose or Write a Message to Put Inside
You'll be able to select from a number of message options from our gallery, or write your own, before checking out.
3. It will arrive in our Gift Packaging
All of our jewelry comes packaged in our signature storybook-style gift boxes or booklets.
Sample Anniversary Messages
Complete your thoughtful anniversary gift for her with a sentimental message.
All that you are is
all that I'll ever need.
❤
– Ed Sheeran
You claim a special place
in my heart, one I'll carry with
me forever and that no one
can ever replace.
❤
– Nicholas Sparks
I love you forever, not maybe.
You are my one true love.
❤
– Lana Del Ray
I'd choose you; in a hundred
lifetimes, in a hundred worlds,
in any version of reality,
I'd find you and I'd choose you.
❤
– Kiersten White
I love you because
the entire universe
conspired to help me
find you.
❤
– Paolo Coelho
Forever is a long time, but I wouldn't
mind spending it by your side.
❤
I am fortunate to
have found you.
❤
Love isn't finding a perfect person.
It's seeing an imperfect
person perfectly.
❤
– Sam Keen
"If you're willing to be a bit sentimental (sometimes this pays off, guys), Fortune & Frame's mantra-infused lockets are an excellent choice."
These lockets are a beautiful way to send a message. Choose from 300 sayings, from a simple 'I love you' to an inspiring 'let yourself dream again.'
If you're willing to be a bit sentimental (sometimes this pays off, guys), Fortune & Frame's mantra-infused lockets are an excellent choice.
One of the most unique pieces of jewelry we've ever found. Fortune & Frame has created a collection of modern jewelry that holds the messages closest to your heart.
Scroll me ->
Get more Thoughtful Gift Inspiration on Our Blog
Questions
Will my gift arrive in time for our anniversary?

We ship within 1 business day of receiving your order, but please allow between 2 - 5 days for delivery. We also over priority shipping for 1 - 2 day delivery.

Can I include a gift note in addition to the message inside?

Yes! When you're on any jewelry page, you'll see a small box that says "This is a gift." Just check that box, and you'll get a pop-up where you'll see an option to add a blank or customized gift note, free of charge.

Do you offer gift wrapping?

We don't offer gift wrapping because our packaging is already gift-worthy!

Each of our pieces--whether you're buying a first anniversary gift for her or for everyday fashion--comes packaged in a custom-designed storybook gift box. If the piece of jewelry you choose comes with a fortune, we'll include a duplicate fortune and a blank fortune in a mini fortune envelope within the box.

We also offer custom or blank gift notes, free of charge. To see our gift options, just click the box that says "This is a gift" when you're on any product page.