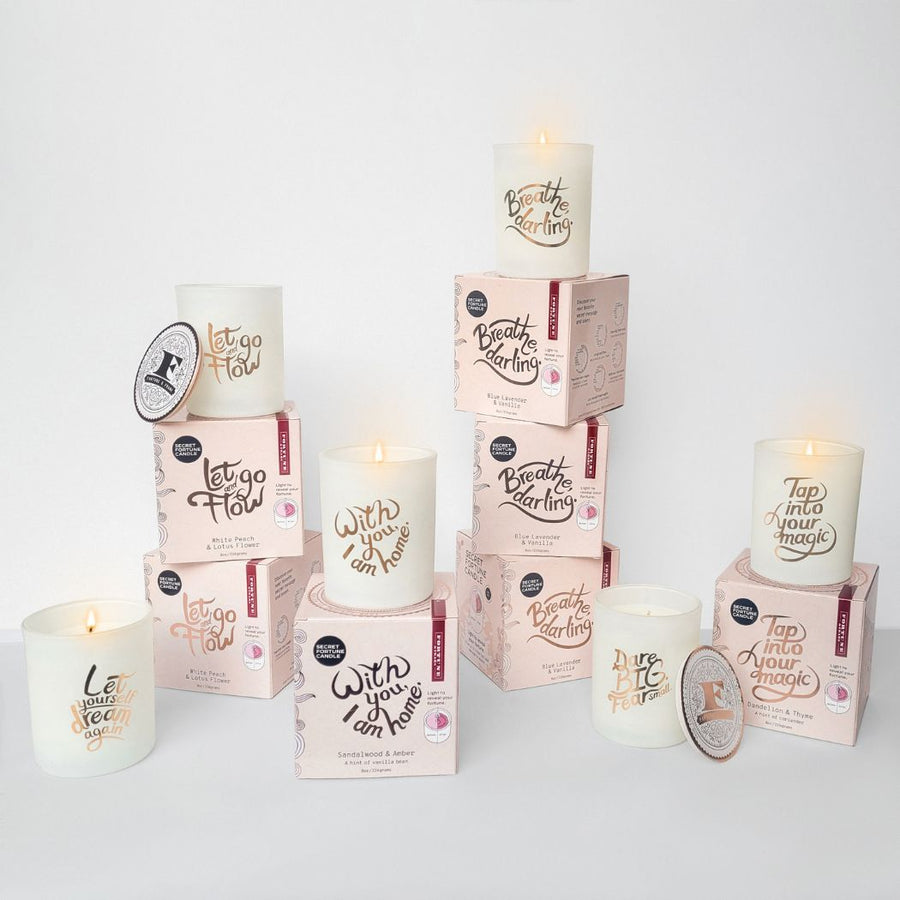 Secret Fortune Candles (6 Pack)
(excluding holidays)
FREE Shipping (on all US orders)
Product Details
As these candles burn, their secret messages are revealed.
Can't decide which quote to choose? So you don't have to, this discovery set features one of each of our Secret Fortune Candles. After about an hour of burn time, each candle burns to reveal a secret message inside.
This set includes:
1x Breathe, darling.
Blue Lavender & Vanilla
Message inside: Relax, take a break, let the world spin without you for a bit. 

1x Dare BIG. Fear small. 
Stone Rose & Cashmere
Message inside: Consider this permission to go after what you want.

1x Let yourself dream again. 
White Eucalyptus & Sea Minerals
Message inside: Your imagination has no time limits.

1x Let go and let flow.
White Peach & Lotus Flower
Message inside: Surrender, hand over the reigns... The universe will do its thing. 

1x Tap into your magic. 
Dandelion & Thyme with a hint of Coriander 
Message inside: You have everything you need right inside of you. 

1x With you, I am home.
Sandalwood & Amber with a hint of Vanilla Bean
Message inside: There's no place I'd rather be. 

8 oz. each

Free Shipping
We offer free shipping on all domestic U.S. orders. Please allow 2 - 7 business days for delivery. Overnight and international shipping are also available at checkout.
Gift Packaging
These candles come in a beautiful peach and metallic rose gold gift box. A hand-drawn diagram shows the recipient how to find his or her message, without spoiling the surprise.
Care
Never leave a burning candle unattended. Do not burn for more than 4 hours at a time. Trim wick to 1/4" each time candle is relit to reduce sooting. Complete care instructions are on the bottom of each candle.
Complete the Look